| | |
| --- | --- |
| | This article has red links. You can help the Marble Blast Wiki by creating the articles with red links. |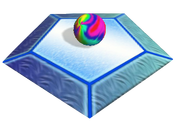 Checkpoints are Buttons similar to Pads. If you touch one before you fall out-of-bounds, you will respawn there instead of the start pad, unless you restart the level. These are extremely helpful if one is playing a level with many hazards.
In MBP 1.50, there's now a key you can press to respawn faster. With the case of the checkpoint, it's very useful for speedruns.
Ad blocker interference detected!
Wikia is a free-to-use site that makes money from advertising. We have a modified experience for viewers using ad blockers

Wikia is not accessible if you've made further modifications. Remove the custom ad blocker rule(s) and the page will load as expected.